Easts Celts Gaelic Football Club is affiliated with:



Queensland Gaelic Football & Hurling Association



Gaelic Football & Hurling Association of Australasia



GAA Ireland



Morningside Panthers AFC



Irish Australian Support Association Qld

This site best viewed with:
Browser: FireFox 1+, IE6+
Resolution: 800x600+
Visits since March 2002: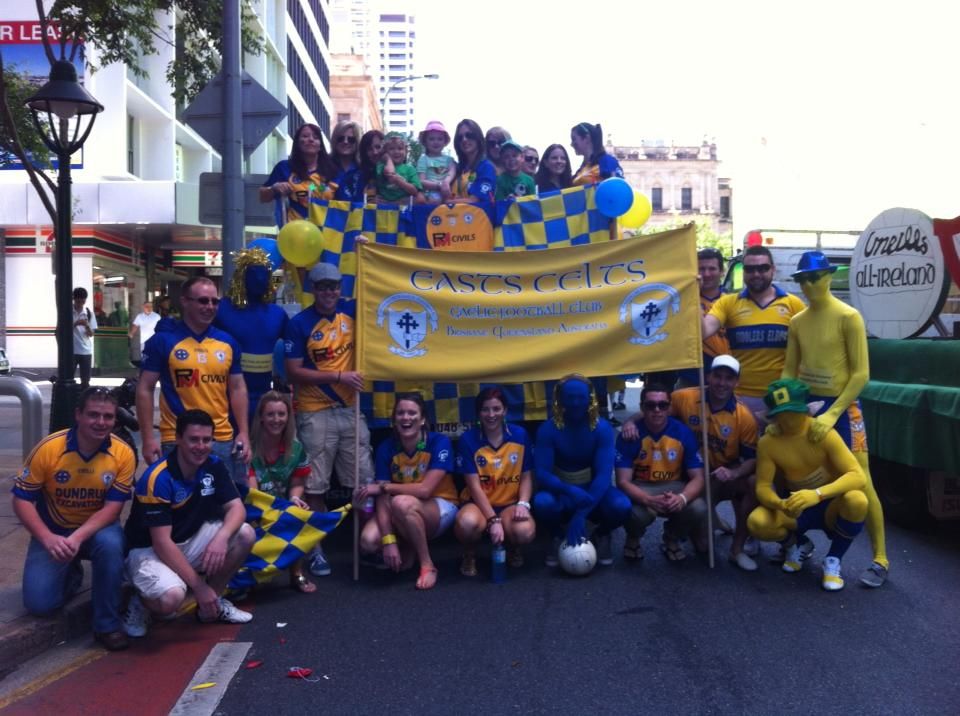 East Celts Gaelic Football Club was established in 1983 and is one of the most successful clubs in Brisbane.

We have three competitive teams in the Queensland Championship for 2015: Menís Division 1, Menís Division 2 and Womenís Division 1.

All new players are welcome; whether you are a novice or an All-Star...WE WANT YOU!! Please send us an email to eastscelts@hotmail.com or check out our Facebook page - Easts Celts GFC Brisbane for more details.



FOOTBALL TRAINING - TUESDAY 7PM
at Morningside AFL Club


We train every Tuesday night 7pm at Morningside Panthers AFL Club, Jack Esplen Oval, Park Street, Hawthorne.

This is a top class facility, with easy access to all of Brisbane. We welcome all new players, members and supporters to our club.

Easts Celts is more than a football club. It is at the heart of the Irish and International community in Brisbane. We currently have members from Ireland, Australia, Scotland, the UK, the USA, New Zealand and further afield. We have as many events off the pitch as we have on, and we encourage members to become part of our growing family and community.

We celebrated our 30th Birthday in 2013 with a very successful Gala Ball. This was attended by club members both past and present, reminiscing on 3 wonderful decades for the club. This year we are delighted to announce our new partnership with Morningside Panthers AFL Club, one of the most successful AFL clubs in Queensland. We look forward to a great future with the Panthers.
2015 Dinner Dance:
Easts are holding their 2015 Dinner Dance at Easts Leagues Club, Coorparoo on 31st October. Please contact Ashling Devery at
eastscelts@hotmail.com
or check our
facebook page
for ticket enquiries.
Easts dominate the 2015 Qld Championships:
In a historic day for the club, Easts Celts won all three Football Championship Finals - Men's Division 1, Women's, and Men's Division 2!
View 2015 Championship Photos
Celts enjoy St. Patricks Day:
View 2015 St. Patricks Day Photos